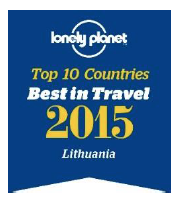 FAMTRIP to LITHUANIA 13 - 15 OCT 2015

The focus of the trip will be to give you a special introduction to Lithuania and Vilnius.
You will get the knowledge of how you can provide your customers the extra they can't see or get themselves.
Participants will go home with a toolbox that will make it possible produce trips with settings and happenings out of the ordinary.

01-ASTORIJA-HOTEL • >>>

02-CITY of VILNIUS • >>>

03-SEGWAY VILNIUS • >>>

04-KEMPINSKI HOTEL • >>>

05-TRAKAI CASTLE • >>>

06-UZUTRAKIS-MANOR • >>>

07-IDW ESPERANZA • >>>

08-BALLOON • >>>

09-GRAND-DUKE-PALACE • >>>

10-RAMUNE-PIEKAUTAITE • >>>

11-STIKLIAI HOTEL • >>>

12-ALUDE-TAVERN • >>>

13-GRAND-RESORT-HOTEL • >>>
VIDEO - comming soon
BACK to TIBORFOTO OFFICIAL WEB >>>>